Use My Simple, 3.5 Step Blueprint to Create Unique, Engaging and Relevant Introductions – No Matter Who You're Speaking With.
Dear Fellow Networker,
Remember when you started attending networking events to promote your business? You were SO excited to tell everyone about it; to get them to buy your goods and enjoy real improvement in their life or business. You couldn't wait to start!
But, after a few weeks of lunches, breakfasts and workshops, handing out cards and sharing your confidence in how much your services could deliver for them, the results left you disappointed and discouraged. What happened? Why aren't they buying? Why don't they even want to follow up with a conversation?
Maybe you LOST them at 'hello'.
If your 'hello' doesn't engage their interest and instead, leaves them bored, confused or even turned off, all your efforts afterwards will be wasted. Your initial introduction, often called an 'elevator pitch' is the critical first step that makes people want to get to know you and how you can help them; it must hit the mark and resonate with your listener!
Introducing:
PEP Club! Build the PERFECT Elevator Pitch
Get to the Penthouse, not Dumped in a Lonely Basement
Hi, I'm Andrea Feinberg and I've been a business owner for 30 years, offering my services both online and through live events. I've done a lot of networking and while I've been fortunate to meet many interesting, helpful people, I've also experienced my share of
glazed looks
yawns
interruptions by a 3rd person
no interest in what I have to say
jargon, the insider language that requires a translator
staring over my shoulder at other, more interesting people (What? Not possible!)
being ignored when I try to enter a conversation
You too? Infuriating, isn't it? All you really want to do is talk with people you could very easily assist – maybe with referrals, products or just great ideas – and you get shut out, ignored, interrupted.
PEP Club – the Perfect Elevator Pitch – will start you on a path to the perfect marketing approach, one introduction at a time.
Before I was a business owner I worked for a world renown corporation, Standard & Poor's. When I went to a networking event and introduced myself, people literally stood up straighter and wanted to talk with me because they immediately believed I could do something for their business; I had built-in credibility. When I went into business for myself, both the first AND second time, I didn't have a company name that immediately spoke 'important' to anyone except my mom.
For a while, I struggled with trying to engage others in conversation that would easily convey how I could help them. I nearly wanted to give up and, no matter what others told me about how to introduce myself or engage others, nothing worked. It was frustrating, to say the least!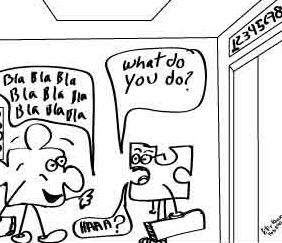 Yet, I knew that if I didn't get better at this, I'd never have the business I wanted and would never deliver the real solutions I knew I could.
So, what did I do? I reached into my own experience as a professionally trained coach and community theater performer and built a simple, 3.5 step system that started to work – every time. Just 3.5 simple steps and I could quickly build an introduction for anyone – anyone– and it was engaging, friendly and, most importantly, relevant to what I knew would interest the other person.
Yet, despite the fact I see so many people at networking events who just want to connect or advance relationships I keep meeting people who are tongue-tied, long-winded and vague. Do you run into them, too? And, maybe you feel that way about your own hesitant attempts to introduce yourself and build a conversation. Do you invest the time and money to attend events only to get home feeling nothing came from it and nothing will?
Ready to change it?
Join me to learn the Perfect Elevator Pitch – PEP – in a private, online club; yes, I'm an adult offering something called The PEP Club. For just $9.97 a month you'll learn my technique to quickly engage people at any event you attend.
You see, my technique has nothing to do with shoving business cards at other people, asking for fast appointments or regaling them with tales of how great your products are (and I know they are; we just get to that MUCH later).
Instead, you use my simple system to gain critical insight into another's situation and then connect your value to their need. That's the quickie version of building your PEP and, of course, there's more; yet, the bottom line is you'll get their real attention without sounding like a crazed salesperson.
Within days of joining, you'll be networking, connecting and having real conversations with people who want to talk with you.
But, we won't stop there.
In our private Facebook group you'll learn how to:
Create ice breakers when you want to speak to strangers at events
Deliver the hook that really gets their attention
Be personable without being nosy or salesy
Follow up with content that's relevant to your audience
Take the conversation beyond the initial meeting
Create different kinds of introductions for different meeting formats
Design a business card that will 'speak' to the recipient and won't get thrown away
Create a 'makes sense' series of email messages to follow up
Here's What You'll Get:
As soon as you join you'll receive your first audio/written training and companion Action Guide to start building your Perfect Elevator Pitch immediately.
You'll learn how to keep your focus, your language and actions on them – your customer, your prospect, your vendor or strategic partner – so you can deliver the outcome they want to receive from the services and products you've spent so much time perfecting.
After that, you'll get a new training on building business relationships through a broad array of marketing tools so you stay 'top of mind' with the people who can give you referrals, resources and direct business.
You'll practice your live P.E.P. with us in the Facebook group;  your fellow members will get a strong sense of who you are, the business and value you represent. Who knows what opportunity will arise from that – referrals, testimonials, feedback, introductions, sales!
Find how to always give value before you ask for anyone's business
Easily find where to draw the line between what you give away and what you sell
And, if you want to build relationships online you'll learn how to:
Find new connections with people already pre-disposed to connecting with you
Quickly show your generous desire to help others with credibility and relevant resources
Engage folks in conversation that could easily lead to business
Establish your credentials as someone others want to meet without sounding promotional
Sure, the process of getting to know people online is a bit different but the intention is the same: create mutually beneficial relationships that are natural, engaging, friendly. Regardless of whether your primary business playground is online or here on planet Earth, I promise: your ability to quickly connect and engage others will improve quickly and powerfully.
And – everything you learn, practice and perfect with the PEP Club will be what you use to expand your marketing strategy and actions with each person you engage. You see, the Perfect Elevator Pitch is not just an introduction; it's a point of view that leads to a comprehensive marketing 'head', a way to always think, speak and act with, as the great Dr. Steven Covey would say, 'the end in mind'. What's your desired outcome? You want to increase
Testimonials
Your circle of influence
Referrals
Resources
Product feedback
Competitive insight
All of this comes from effective marketing, a focus on your audience's wants. And all of that starts with how you say 'hello'. The PEP Club is your ticket 'in'.
Before putting this club together I spoke with 2 dozen avid networkers and I've incorporated all their suggestions for you; they said: make it easy, make it practical, make it responsive to my needs. I've got it all covered for you and it's all just $9.97/month.
So, again, here's how the PEP club will work:
You're part of a private Facebook group with other growth-minded business people
As soon as you join, you'll receive the first downloadable training and Action Guides to build your own PEP
I'll host a private – just for the club – training each month, focused on helping you improve connections
And it'll be recorded; can't make it to the live event? That's ok, you'll find the trainings in the group's files and documents
Each month, one member will be showcased, practicing their PEP in the group and getting positive feedback from people who could easily be your audience; I want you to find fast business opportunities and I'll never restrict you from practicing what we preach in the club!
You'll learn how to use the tools of effective marketing to communicate, one person at a time, in a way that's meaningful to that person
You'll practice your PEP in the real world, attending your usual networking events and improving your skills every time
You'll get lots of practical tools, all meant to help you build relationships; and remember – it's relationships that lead to business!
Stay as long as you want and get value; there is no contract, no long-term commitment and the price again – just $9.97 each month
So, are you ready to say 'yes!' to easy, enjoyable and rewarding conversations at your next networking event? Let's start now ~