30 Day Challenge
January 22, 2016
Posted by:

Andrea

Categories: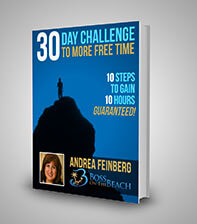 Does any of this ring true for you?
– want to work less
– want to focus on higher level actions
– need more free time
– need to be more productive
– want employees who'll be more productive
– got time management problems
– feel there's just not enough time to get it all done
– seeking stress managment (too pooped to notice the mis-spelling?)
Yes, you're in the right place.
The '30 Day More Free Time Challenge' is delivered to your e-mail box, every 3rd day for 30 days.  Each of the 10 brief segments you'll receive will focus on a different type of time-related headache:
planning too many events
not inspired being at your desk
allowing frequent interruptions
hiring people who never get it right
poorly planned & zero-result meetings
getting blind-sided by the unexpected
confusing being busy with being effective
spending precious time on every priority except your own
Pain relief from these stresses will be more free time –  Complete the program, and  gain 1 hour of free time with every lesson, I promise. You'll have gained 10 hours of more free time within 30 days. However, at that point, you're just getting started because over time, as the effectiveness of each lesson really takes hold – for you and those you work with – you'll begin to see a continued, rolling effect of more and more free time.